What can I say I am an exhaust whore. This is the third exhaust system that I have purchased for a Grom. The Tyga system I purchased last month was just a temporary setup and this will probably be the one that I keep on the bike.
I gotta say that this exhaust is top notch. The quality is on par with other high quality Japanese exhaust makers. The welds are perfect. Fitment as usual is spot on. The exhaust is very lightweight. It also is very unique in design and looks. You can't beat JDM quality it's always worth the price.
I got a chance to ride a little bit with it over the weekend. The performance is on par with any other exhaust. It does have a nice stepped header design. The sound is where this exhaust differs from others. It gives a nice smooth bass note. It's not overbearing and it doesn't drone at cruising speed. It doesn't have that thumper sound like the Tyga. It is also much quieter than it looks. I'll post some videos soon of it.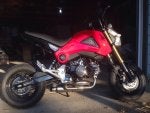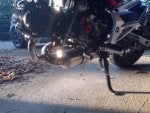 Sent from my iPhone using HondaGrom.net