Discussion Starter
·
#1
·
I have not posted my build here so I figured I would throw it out there for everyone to see, Ask questions and make fun of my purpleness
. I have learned a lot in the progress of my grom build and wasted a lot of money to the point where now I could build an engine blindfolded. I knew nothing about such stuff besides your basic knowledge of oil changes and chain maintenance. I purchased my grom new in May of 2017 and had zero plans of doing anything besides a cheap exhaust, fender eliminator and bars. My idea for my grom was to dick around, go off road and just have fun. Lemon Ice was the color. While at first, the color grew on me but I knew eventually it would become white as I find white anything from cars to motorcycles just look the best.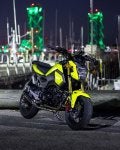 (Click to make larger)
Then, the modding bug hit, Started with the Finbro setup which at first i thought was awesome. Looking back, if you want performance just simply avoid it. I then went to a DCR cam, Aracer Mini plus 2, and loved that setup. Quickly wanted more and jumped to a Koso 170 BBK, Finbro head, Hindle exhaust, supporting mods and loved that setup too but again, shortly after i wanted more. And 2 years later we arrive to what my grom currently is and its a monster. Below is the current setup and I am really happy with this setup, performance, sound although ear bleeding, and the look.
Koso 4v Head
Drow LS181 BBK
Takegawa 5-Speed Transmission
Hindle Exhaust
Koso 34mm Throttle Body
34mm Dinger Mid-length Intake
GromFatherz Speed Spacers
GromFatherz Vented Cam Cover
GromFatherz Manual Chain Tensioner
GromFatherz Head Studs
Koso Chain Tensioner Arm
4th Bearing Support w/ Oil Mod
Kitaco Forged Crank
Kitaco 5-Row Oil Cooler
Kitaco Oil Catch Can
Kitaco Side Cover
Takegawa Oil Pump
60% Springs with HR Plate
Ohlins Front & Rear Suspension
Aracer RC Super 2 ECU W/ AF1 Module
OEM White Pearl Plastics
Carbon Fiber Tank Cover
Carbon Fiber Headlight Shroud
Carbon Fiber Fender Extender
Carbon Fiber Dash Shroud
Corbin Seat
CoreMoto Stainless Steal Brake Lines
Ebay Levers(LOL)
Switchback Rear Signals/Brake
Switchback Front Signals/DRL
PSD Chain Adjusters
PSD Bar Risers
KLX110 Bars
Koso Dash W/ Ruckshop Mount
Dinger 02 Delete Plug
Brembo P32 Front & Rear Brakes
EBC VEE Rotors Front & Rear
PSD Rear Brake Caliper Mount
Vagabond Rack w/ Fender Eliminator
Nelson Rigg Tail bag
Misc Bolts Etc changed to purple/titanium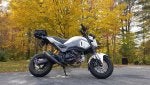 (Click to make larger)
With all these mods, I originally had my stock clutch with 10,000 hard miles and it started slipping so i swapped in a friends used stock clutch with about 4,000 miles and it does not slip at all and handles perfectly. I plan on over winter doing the Sex Machines 6-disc clutch just because but I really think i can get away another season on a stock clutch.
I believe a bike should make you smile each and every time you ride it no matter how much or little money you throw at it. People assume I just threw tons and tons of money at a grom and its a waste but people do the same with civics and make them fun and fast. Its all about what you enjoy and I enjoy making my bike, big or small my own and different while at the same time making it do things it was not intended for. Almost all these parts i purchased 2nd hand, Sponsor type stuff or traded for. I have about half of what these parts cost originally into my build. Deals can be found if your patient enough.
Here are some pictures of my build. Any questions feel free to ask. (Click to make larger)