ND4's Throttle body mod.
Alright all, I am in the process of doing a port polish and performance upgrade on my grom (new head etc). I was going to put this in my build thread but i felt it could be applied to anyone so I will separate it out.
When I was taking things apart i noticed that the throttle body in the stock form had HUGE screw heads and excess screw holding the throttle plate onto the main shaft (relative to the small 24mm opening of the TB). Talk about some nasty airflow path.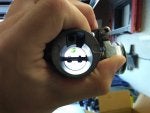 So, some stainless tapered head m3 screws (not pictured), a countersink bit, and some filing of the screws.....
And you get this, A much better path for the airflow to go through the TB!
Also while i was there i smoothed out the front edge of the TB itself.
Just make sure to use some red loctite on the screws when you re-assemble
(WATCH OUT!!!!, when you pull the throttle plate shaft out there are 3 lil seals. 2 on the Cam side that you dont really have to worry about, but the one on the TPS side has to pass through the main TB opening, and the way they are oriented its you have to be very careful when you pull it through the other side of the TB opening. If you do this pull it slowly out and you will see what i mean when you get "stuck" when the seal hits the inner part of the TB opening. You will have to use a little screw driver to push the outer lip of the seal down in the shaft hole so it slides out without destroying the seal)