Hey Guys,
While doing the build on my FZ09 I was asked to post up my Grom build. I will back date it a bit but I still have a long way to go on this beast! I just picked up a Grom for my girlfriend to ride around with me and I am pretty pumped about it. So pumped I ended up buying one the next day. I have always been a fan of building minis and want to have a lot of fun with this one. I am not going for the fastest or the flashiest Grom but I want to build a nice, clean, performance Grom to get around LA.
It should come together over the next few weeks here and I will be updating as most the parts go on. I have most of the parts for the build already except for some things that I need to pick up from the guys at Steady Garage this week!
Here is a little overview of the build!
Controls - Motion Pro Revolver Throttle, Billet Switch Controls, RSC Billet Shortie clutch
Clamps/Bars - Vortex V3 MX Bend bars, GPR V4 Steering Stabilizer, GPR 1 1/8 Oversized Bar Mounts
Front Brakes - Brembo Monoblock billet caliper, G-Craft caliper bracket, Magura 195 Radial 13mm, Magura Remote resi, EBC V Rotor, EBC Pads, HEL Brake Lines
Rear Brake - Full throttle Inc Master Adapter, HEL Brake Line, Brembo 34m Caliper, EBC V Rotor, EBC Pads
Hand Brake - Magura 195 Radial 13mm, HEL Line,Full throttle inc Adapter, Brembo 34m Caliper, EBC Pads
Suspension - MNNTHBX Forks and Tripple clamps, MNNTHBX Shock
Drive - Vortex Rear Sprocket, JT Front, DID ER420 Gold Chain, Ti Sprocket Bolts
Tires Wheels - Bridgestone Bt-601ss Tires, Ariete Aluminum Valve Stems, Takegawa Aluminum spaces,Takegawa Hollow Axles
Body - TDM Halo Headlight, MNNTHBX Under tail, TYGA Carbon Sprocket cover, TYGA Carbon Side Cover, Takegawa Carbon Tank cover, Saddlemen Seat, MNNTHBX Faux Frame, ESD Axle Slider, ESD Footpegs
Engine - Chimera Intake, K&N Filter, Akropovic GP Full System, Bazzaz Fi Controller, Bazzaz Quick shifter, Zeta Magnet drain plug, MNNTHBX Cam Covers
At 93 miles I figured it was time to start tinkering a little bit.
Clean stock and Fresh at 93 miles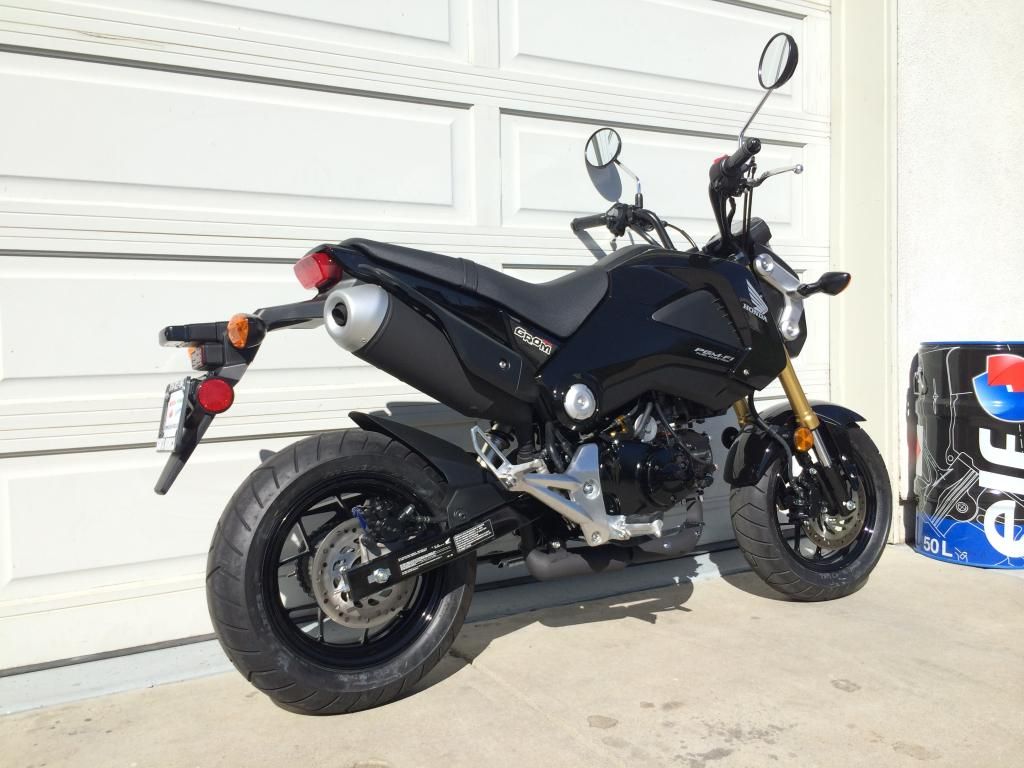 Re mounted the horn and removed all the stickers
A few of the parts shaping up for the build