Discussion Starter
·
#1
·
The Starlane Digital Gear Indicator shows what gear you are in
& comes with a Programmable LED Shift Light.
What makes it unique is the gear update speed.
The gear update speed is significantly faster than common devices
that have a delay of higher than a second.
Despite its compact proportions, it is fitted with a large display (22mm. height) allowing immediate visibility.
Can be used on motorcycles & car applications.
FEATURES:
* BIG DISPLAY WITH AUTOMATIC DIMMER.
* ULTRABRIGHT BLUE ADJUSTABLE SHIFT LIGHT.
* UNIVERSAL INSTALLATION ON VEHICLES WITH ELECTRONIC TACH & SPEED SIGNALS.
* UP TO 9 GEARS SUPPORTED.
* WATER RESISTANT.
* DIMENSIONS: width 29 mm. - height 41 mm. - dept 20 mm.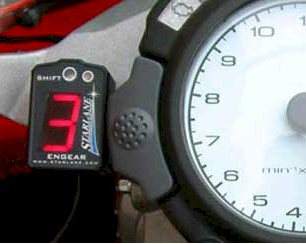 Click on the link below for more information & pricing

>> Starlane Gear Indicator w/ Programmable LED Shift Light <<
.