figured I'd start one of these up to keep track of stuff.
Got mine on 8/23/2013. Received my Tyga package the same day and pretty much installed everything.
Goodies included. full set white plastics and various cnc parts that tyga carried, which are actually made by a Thai company called Bikers. All of them are pretty top notch and the red anodize on them matches, which was a plus for me.
clutch adjuster, clutch and brake levers, oil inspection caps, steering stem nut, rear brake and caliper clamps.
I'll take some better photos later during the week.
first few are when i first got it home
The night i brought it home was the night it went white and safely parked in my bedroom... haha
quick cruise up the street
Another cruise up turnbull canyon to see what the little grom was made of
Up Chantry Flats with my brother in Arcadia.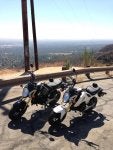 Up GMR with my brother and another friend.