Discussion Starter
•
#1
•
For those who has changed their front running lights/blinkers with Thai spec or LED lights you lose the option of the running lights. I like having the extra visibility of having the front running lights so with the help of a member on here (1968joel) pointing me in the right direction I got it working and decided to do a quick how-to on how I did it.
You will need 2 single pole dual throw (SPDT) relays, one for each front blinker. You can get them from Radio Shack or maybe from some auto parts store.
the ones I used were radio shack 275-0248 SPDT miniature relay which was on sale for $.98
you could also use this one:
12VDC/1A SPDT Micro Relay : Micro Relays | RadioShack.com
Here's a diagram I drew on how I wired it up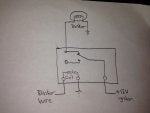 Used solder and heat shrink tubing to connect wires to relay
Note: I found out on the stock running light system the running light would shut off when the blinker was turned on, so I couldn't use that wire to connect to the com side of the relay. So what I did was find a constant voltage source that would be on when the key was turned on. Found out that the black wire that goes to the stock blinker relay was a good voltage source so I tapped into that and ran wires to the com side of the Radio Shack relays.
I also changed out the stock blinker relay with the CF13 JF-02 electronic relay cause I'm running Thai front blinkers and the MNNTHBX fender eliminator. It works great!
Here's a vid of
1968joel's
front led running light/blinker setup