I confirmed the O2 sensor on the MSX is indeed a zirconia type Narrow band sensor and does put out a DC signal.
Range is 0.0v at full lean at room temperature and i got .96v at full rich at 600F. It did not register a frequency on my meter, but I don't have an Oscilloscope so I'm limited to around 1000KHz.
This means a regular resistor probably isn't going to trick the ECU.
Here you can see the voltage output when the lighter flame is simulating a rich condition.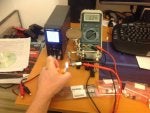 So now its time to work on an ECU emulator circuit, but with a constant .5V output.
Sent from my iPad using HondaGrom.net