Discussion Starter
•
#1
•
In honor of my Grom turning 1 yesterday I figured I'd make a build post. The bike was delivered to me on Nov 10th 2018, I originally purchased it as a means to build my credit. When I bought the Grom I had no riding experience and figured it would be a fun little toy to both learn how to ride and also learn how to work on motorcycles.
Day it was delivered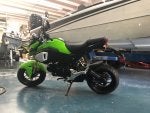 First thing was to get rid of that horrendous rear fender. I ordered the TST tail kit and front turn signals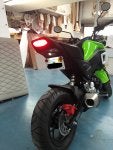 Then living in south Florida I kinda wanted an exhaust to keep from getting merged into. I went with the AR system just because the price was right and it honesty wasnt a bad system.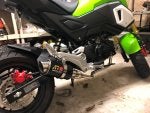 This is the point when I learned about MiniGp racing. I went to my first track day in April and it was all over from there.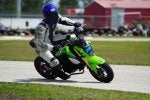 I manged to lay the bike down that day, but still had fun none the less. The only damage to the bike was a broken side piece on the headlight housing it bent the bars. My ankle took the brunt of the crash. That week I ordered Pro taper KLX110 bars and pro taper grips. While i was on crutches for two weeks I got bored, picked up and extra seat and decided to make a custom seat for when I riding it around the streets.
Here's a final pic from yesterdays track day. I've been slowing changing bits as I've been progressing at the track and its become a fun, relatively inexpensive racing hobby.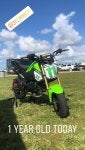 Current list of Modifications
Dunlop TT93's
TST axle sliders
TST under tail and integrated trail light
TST flush turn signals
Aftermarket Rear sets with up graded folding pegs
High mount header and muffler using the Tyga bracket
Kitaco clutch springs
Pro taper KLX110 bars and grips
Aftermarket levers
12t 13t 14t and 37t and 40T sprockets depending on track
Honda XR number plate
Seventy Seven decal kit