The Build has started!
All new pictures will be added to main post as time goes on.
Day 1 The ride home
Didnt want to bring the trailer so she rode nice and safe in the back.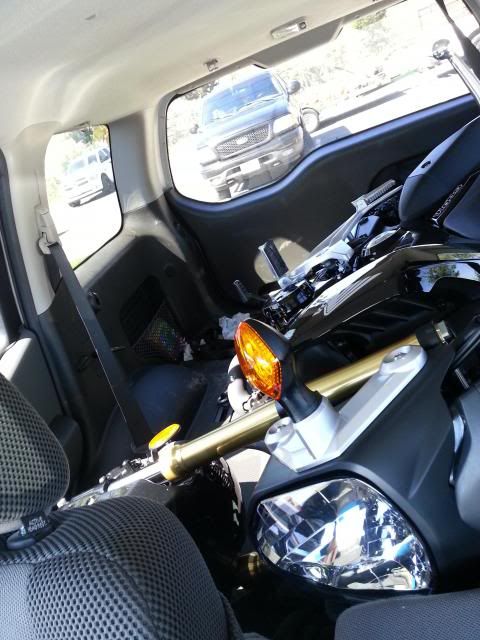 Flush LED front turn signals
Fits perfect on our headlight mounts. If only doing front LED's you will also need to install a flasher relay (part #EL12)
2 x Honda Smoke RR F4 F4i LED Turn Signal Lights Indicator Mount Flush Blinker | eBay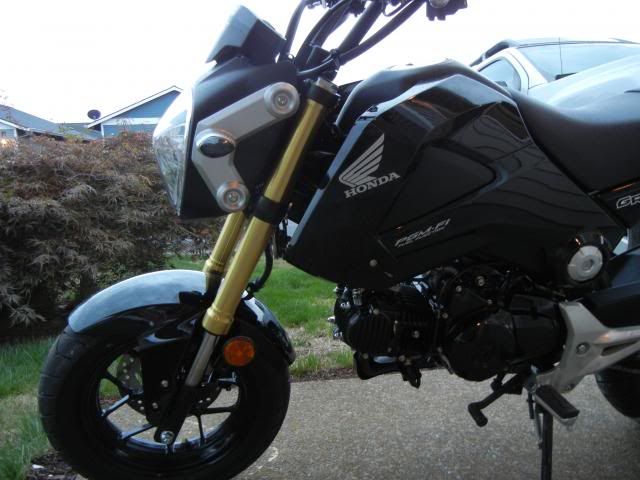 Rear fender eliminator


Home depot carries aluminum angle in about a 6ft length. I cut to fit drilled holes and painted. Very clean and easy.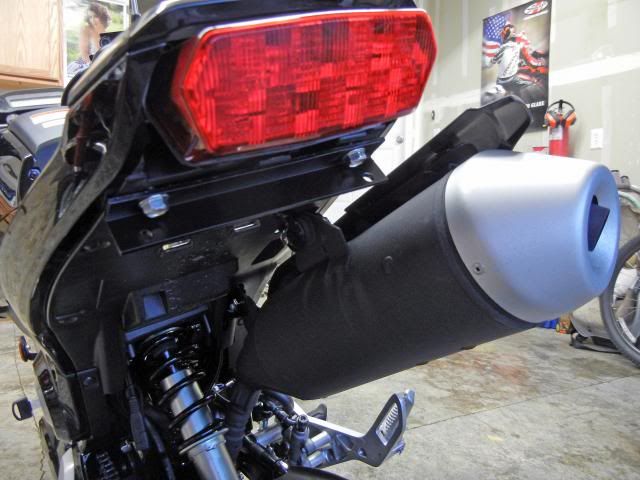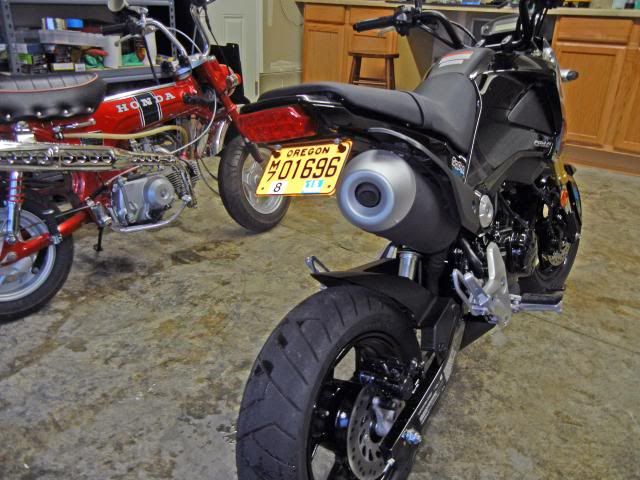 Rear LED blinkers

These blinkers mount right under the taillight. The orange 5 LED blinkers are very bright. It mounts with double sided sticky tape and should work fine. If the tape does not hold I will mount with bolts. They do not come with built in resistors and must be added. Radio shack carries the correct insulated waterproof 50ohm resisters. They must be soldered into your positive and negative leads and wrapped with shrink wrap. Again you must still use your flasher relay EL12.
LED Motorcycle Turn Signals Blinkers Front Rear Peg Light Cowl Slim Flush EVO S | eBay
This is how I wired in my resistors. Must go threw + and - Hope this answers a few questions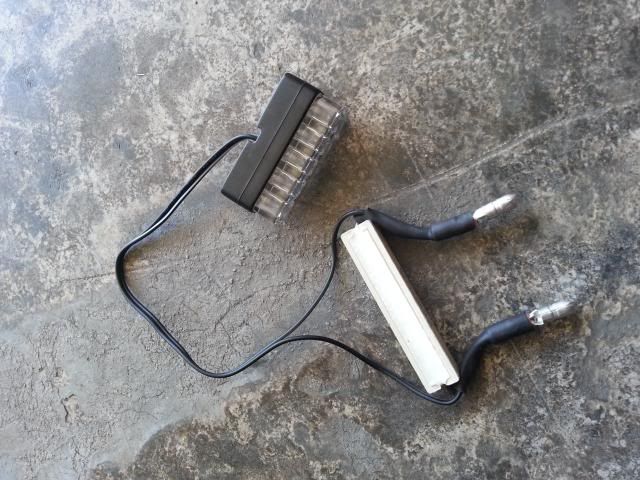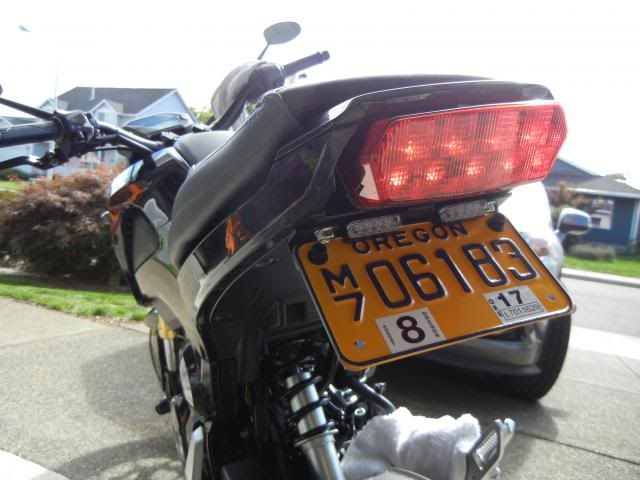 Custom Plastics


Work was done by Hydro Graphics Inc. If you don't know much about water image transfer it is basically a film that dissolves into the plastics and is clear coated. They are down the road from me and do a lot of things for huge companies The plastics are being dipped and painted in Kryptek Typhon. One of my favorite dips for guns. Parts being dipped are: shroud covers, front fender, rear tail, and headlight mount.
Hydro Graphics Inc.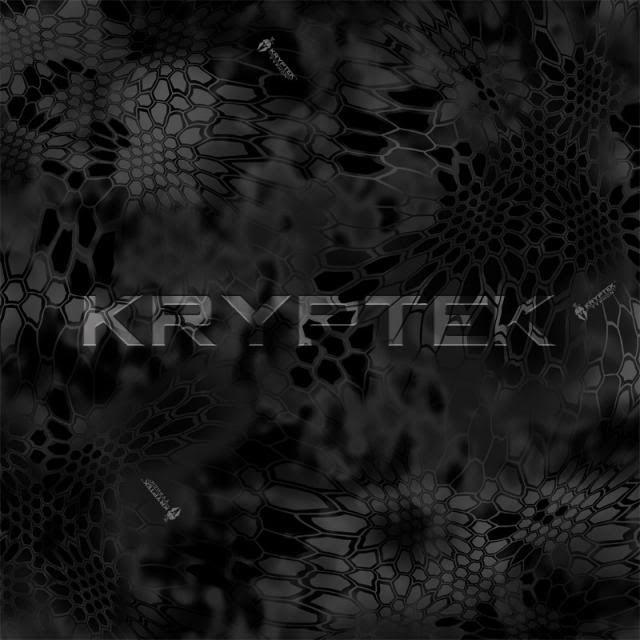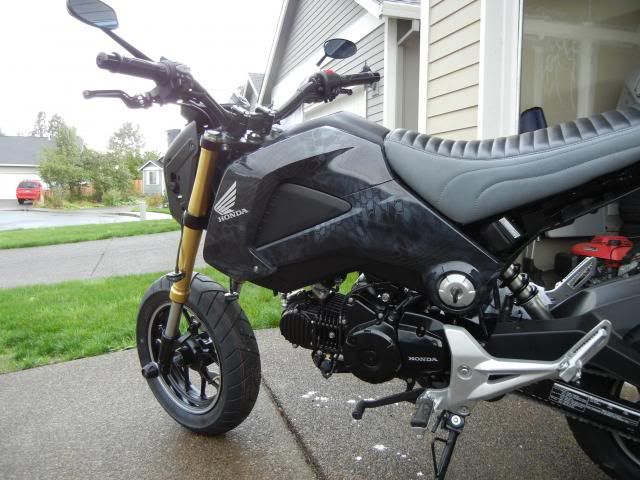 Custom seat


My wife's grandpa has done upholstery on the side for years and has a full set up in the shop. Over the next week we will build a softer seat with a custom cover this is what I would like it to look like. Starting at the bottom it will be black. Next line up with be silver and finished up with a pleated black on the top.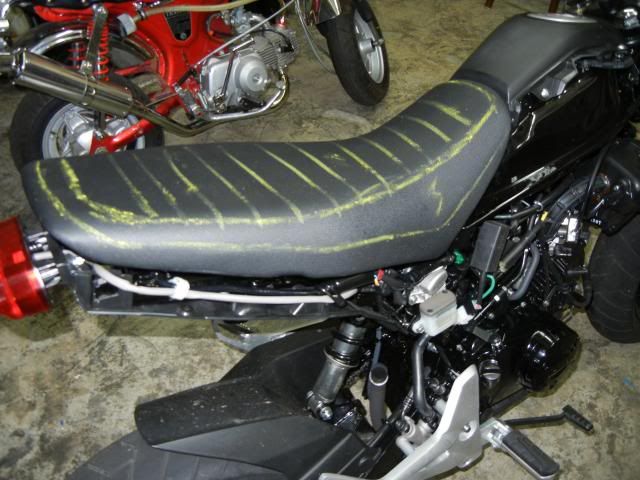 Seat Finished. Final product ended up alittle different but still like the outcome. More padding added to make her a little softer.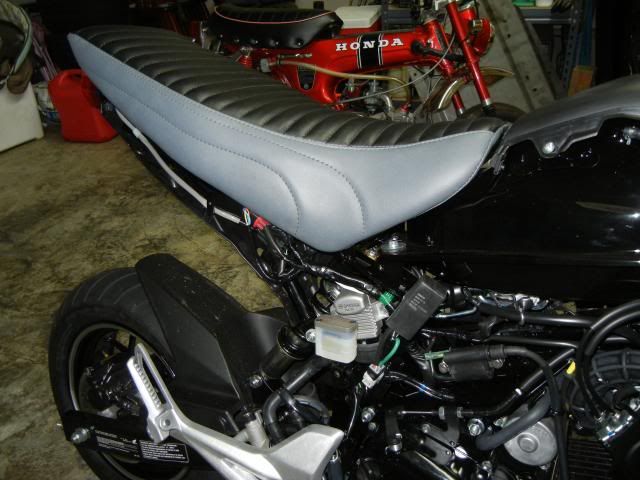 Adjustable Levers


Our levers are the same as 2011-2012 CBR250R. I went with cheap Ebay levers as I have owned them on all my big bikes and work great.
T2W CNC Adjustable Brake Clutch Levers Honda CBR250R 11 13 Short | eBay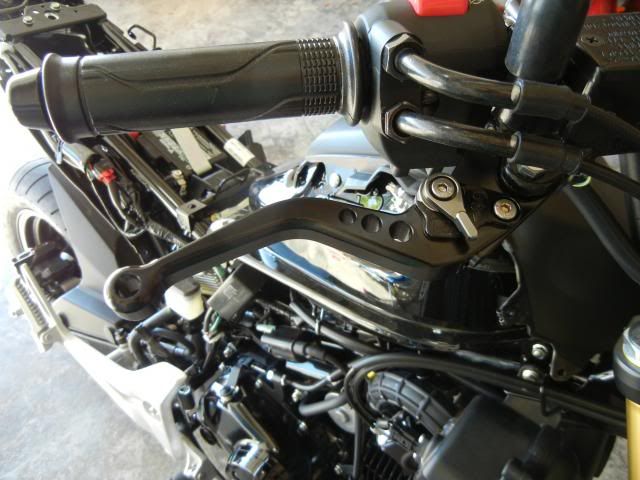 Rim Tape

Rim tape came in today very easy install. Printed on oracle which I was shocked at $8 shipped that cannot be beat.
12 15 inch Wheel Rim Tape Stripes for Motorcycle or Car Available in 5 Widths | eBay
Painted Side Cases


Local store had a huge box of model paint for $10 so I decided to paint the side cases. Dropped the paint in the letters and pushed around with a brush. Let it dry for 15mins. I took out a razor blade and went around the the top of the letters for a sharper letter.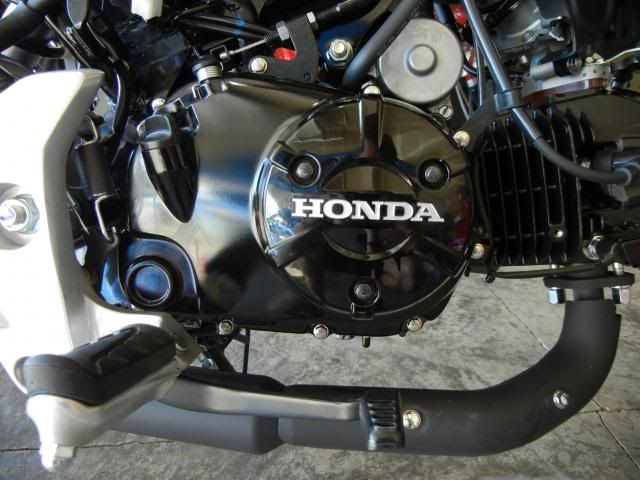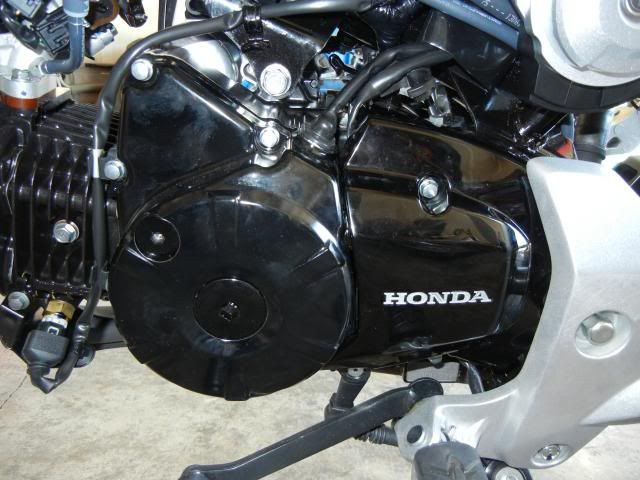 Mirrors


They are a knock off of a $300 pair of mirrors. The size is perfect for the grom. They are nicely made and in budget. No plastic here!
http://www.ebay.com/itm/290610728156?ssPageName=STRK:MEWNX:IT&_trksid=p3984.m1497.l2649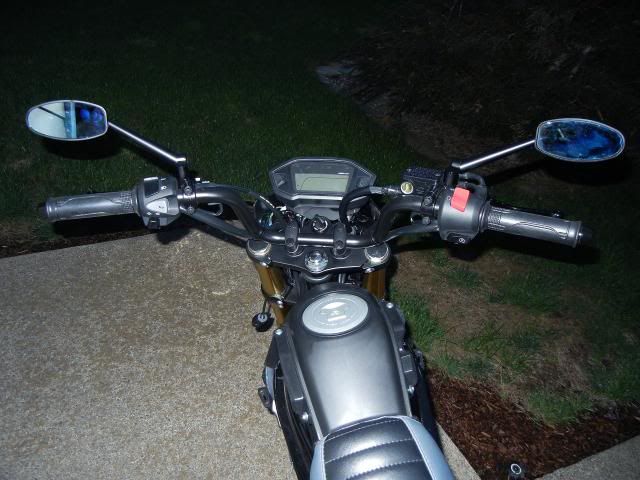 Handle Bars and Mount


I went with TAG Metals 1 1/8 oversize mini racer bars. Tag makes the correct 1 1/8 mount but at $80 I passed. Pro Taper makes the needed mounts at half the cost.
Installed picture coming soon.....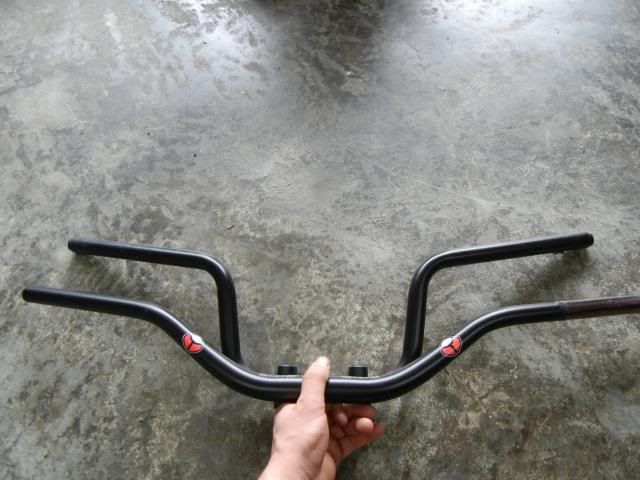 Rotors


GalferUSA makes a rotor for the front and is still working on the rear at this point. Alittle overpriced at $130 but this is the wasting money thread. Braking makes a rotor alittle under half the cost if not wanting to spend galfers $$. Part number is DF078W. Ive seen some floating rotors but dont know the quality. On brakes I'm not risking cheap.
Brakes


Brembos are on order. 84mm P32 will be the new shoes. Taste of gold.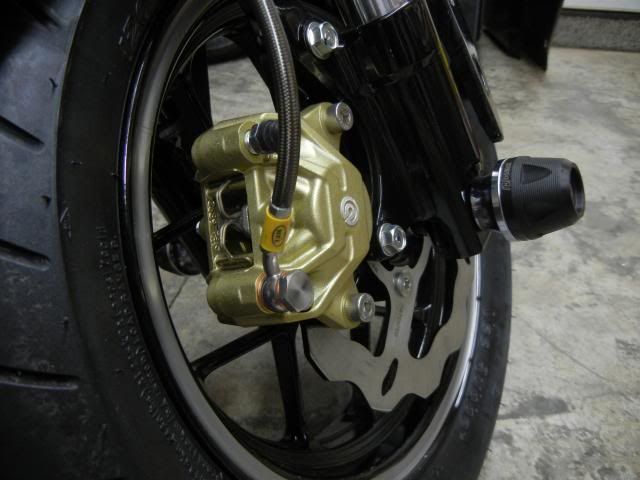 Brake Lines


I have used HELUSA for my last builds and they have made me some awsome lines in the past. I called them up today to build me another set. They told me to send in the OEM lines and they will send me braided for free so they could start making sets up for sale. Very excited to have there lines on my bike. Should be here next week in smoke lines, silver banjos, and black bolts.