Discussion Starter
·
#1
·
​
The dichotomy of buying a new helmet… The responsible part of my brain says that safety is key. By that rationale, looks should not matter. I would have a seat in the Senate if I said that the looks did not weigh almost as much as the safety aspects of the helmet. Style and design has got to be on point for me to shell out the dough for a new, and good helmet. Which leads to the third equally important factor in buying that necessary bit of equipment for riding a motorcycle, price.
When I first read about Honda's new mini bike the Grom, I knew I had to have one. I've been out of the motorcycle scene for a few years and have been itching to get back in. This new inexpensive monkey bike was my ticket. It's the perfect neighborhood cruiser, and camping bike. Heck it's one of my contributions to saving the environment as it gets 99 miles per gallon.
Now that I had a red Honda Grom in my possession the hunt began for the perfect helmet. Searching through most of the well-known manufactures, there was nothing that jumped out at me. I wanted a helmet that was unique, modern looking and fresh.
A friend of mine had sent me an email and suggested I take a look at the Icon Variant line of helmets. I was sold! From there on out it wasn't a question of what brand of helmet it was a question of what Icon helmet. It was a toss up between the Battlescar, Carbon Cyclic and Airframe Carbon. A few days went by and I still couldn't click on the "Check Out" box. Once the Icon Ghost Carbon Airframe helmet was announced, the hesitation with the "Check Out" button was gone!
The Icon Ghost Carbon Airframe helmet is just bad to the bone. From the minute you pull the helmet out of the box and remove it from the included high quality helmet bag that doubles as a gym sack, you know it's something special. The helmet uses Icon's airframe chassis with a hand-laid carbon fiber shell, translucent "supervents" on top, and a yellow tinted shield that is just flat, aggressive. The icing on the cake is the exclusive rubberized "rubatone" coating. Inside you'll find the helmet wrapped with removable snow camo interior that is easily washable. The sizing for the helmet appears to be spot on for a "medium oval headform". The fit is solid and extremely comfortable. If anything it's a little on the tight side and I'm sure it will break in slightly over time.
​
The helmet is probably the lightest helmet I've ever owned and will be suitable for long rides through the hill country. The translucent ghost vents provide good airflow to keep your noggin cool on those warm and even hot days. As with most carbon fiber helmets the Ghost Carbon does seem allow more noise to enter the chamber. I didn't find this to be an issue, as I prefer to hear my surroundings somewhat, and if you don't, popping a set of ear plugs is necessary. My favorite feature of this helmet is the included yellow visor that provides enhanced visibility for day or night. It's handy to have one shield that gets the job done under any condition. It also makes you feel that you have just stepped out of Halo.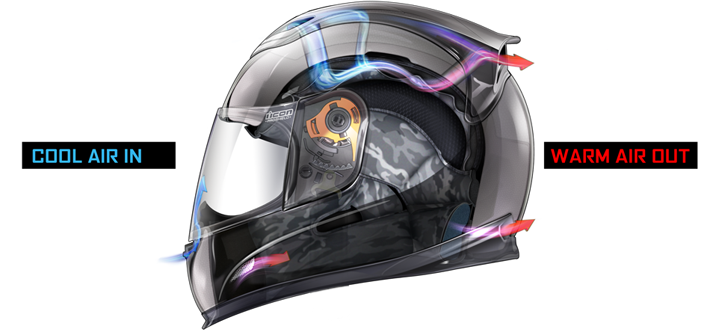 The Facts:
• All world standard, Meets of exceeds the following: DOT FMVSS 218 (US), ECE 22-05 (Europe), SAI AS1698 (Australia) & SG (Japan) safety and testing standards. Does not ship with SAI or SG certification stickers unless purchased in that country.
• Carbon Fiber Shell
• 1450 grams in size medium (+/-50 grams)
• Medium Oval Headform
• Yellow Tinted ProShield
• Wind tunnel tested and refined
• Multiple oversized intake and exhaust ports
• Removable molded breath deflector reduces shield fogging
• Quick-change fog-free Proshield with sideplates
• Fully removable/washable HydraDry™ interior
• Rear spoiler for reduced helmet buffeting
• Prolock secure shield locking system
• Removable chin curtain
For more information, check out
Icon Airframe Ghost Carbon Helmet - RevZilla