So I've been looking at new mirrors lately for the Grom and everything I came across looked a little on the cheap side, or had bad reviews online. I considered bar end mirrors, but I took that space up with some integrated switchbacks that I personally like.
Long story short ended up purchasing HONDA Rebel mirrors off the 2017 model and they bolt right up with OEM quality and look pretty good in my opinion as they are shorter. Here are some pics for reference and everything cost me under $20 :big smile:
PART NUMBERS:
88210-K87-A00 Qty X 2 Mirrors
88119-K87-A00 Qty X 2 Black Cover Caps
Before: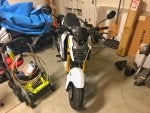 After:
Before:
After:
Definetly looks better person and I'm happy with them.