So after going to the Bash earlier in the year with my Grom Fatherz 210 build and drag racing it I decided I wanted to get a little more aggressive and set it up to go faster. I went a a
[email protected]
at the bash but knew with a few tweaks it could go much faster so the new build began.
First I pulled the engine and sent it back to Grom Fatherz to do a once over as well as add a 5 speed trans, larger cam, and a even larger TB. White it was there I worked on the changes I wanted to make here. First I ditched the heavy stock swingarm with mojo stretch for a Gcraft plus 10cm arm. Switched out the brakes for Brembo P34s, Galfer wave rotors and, braided lines. Next I switched to lighter wheels and mitas MC35 tires. Swapped out huggers and multiple other parts with carbon replacements. Then I switch from Renthal Fat bars to a set of Drag Barz and added a 2" front fork drop kit.
Finally we did a retune on the bike with MR12, and with the sticky tire likely soaking up a HP on the dyno made 34.6Hp.
With all said and done first retest of the bike at the track netted a
[email protected]
After a few tweaks I improved that time testing on the dragy to a
[email protected]
and a
[email protected]
I will be headed back to the track tomorrow to back up the new time with another slip.
Thanks a lot to Kenny at Grom Fatherz for all the support and one hell of a engine. The bike went a GPS confirmed 107 on the old setup. Will rest the new setup very soon for too speed.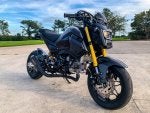 UPDATED BUILD LIST:
Engine GF 210
Koso 4V head
Grom Fathers Port work
210 Billet Cylinder
210 JE piston
MLS head gasket
GF head studs
GF Spec web cam
GF valve covers
GF vented cam cover
Titanium retainers
Cam chain tensioner
Kitako Crank and Rod
Koso cam chain arm
Takagawa 5 speed transmission
Tumble polished bottom end parts
Takagawa crank support
Takagawa oil pump
SMR clutches
SMR springs
Koso plate
Kitako cover
SMR stator cover
Koso TB with Billet TB mod
Rev wedge
Gasket set
Ecu/fuel
Arcaer RC1
Aracer AF1
Blink
Calibration cable
4 way cable
Honda 10 hole injector
Bigger fuel line
Supporting mods
Hindle Exhaust (black.carbon)
Takagawa catch can
Kitako 5 row Oil cooler with mount
GF billet hindle gasket
Other mods
Evil Swingarm
Vortex rear sprocket 39t
Front sprocket 16t
Black and gold oring chain
MOS Forged wheels
90* valve stems
GF Speed spacers
Koso Dash
Koso Bezel
Carbon Front fender
Carbin Rear fender
Carbon tank cover
Lethal black panels
Lowering link
Race Barz
ASV levers
Carbon headlight bezel
Carbon Tail
MRA windscreen
Healtech Quick shifter
Brembo p34 set
braided lines
Grom Wave rotors
Brembo caliber brackets
Racing bros rear shock
Racing bros Front fork lowering kit
Racing bros front fork inserts
Lithium battery
Kitako HD starter
Grom Driven rearsets
NRC tail tidy
TST flush mount signals
OG headlight conversion
Eurospec OG headlight
Mitas MC34 super soft tires set
DHM titanium axles and swingarm bolt
Renthal Grips
Kitako starter cover
I am sure I am missing a few things but that's the basics.
UPDATE 3/20 MOST RECENT TRACK RUNS (SEE BLOW FOR SLIPS)
[email protected]
see below for slips
UPDATE 5/4
Changed to a QG headlight and windscreen to hopefully help a bit with aero.