Discussion Starter
·
#1
·
Whelp, as many know i have been running the stock head with stock valves on my 164cc kitaco bbk. This is the single biggest bottleneck i currently have on my setup (see build in signature).
I realized i needed a bigger valved, better flowing head, and unfortunately the only game in town for something of the sort is Finbro. 250 bucks gets you a head with 27/23mm valves (stock is 25.5/20.95mm). The size i really wanted (28/24mm) was going to be 350 shipped.... no thanks.
Franco from finbro got the head shipped to me very quick in nice proper packaging with a new exhaust gasket, sweet!
My problem is, for 250 bucks, I expected MUCH better QA on finbro's part, especially considering you can buy a full OEM head and valves for ~70 bucks. The porting looks decent, but when i started looking at valve seating and the combustion chamber its when things started to fall apart. The valves seated so poorly you could see light through where they should of seated into the ports if you shined a flashlight in the combustion chamber. This. is. not. acceptable. It was at this point i realized, ok at a minimum valves were coming out to get lapped into their seats. So i pulled the valves out to find this.
That black ring is the tiny contact patch of the valve, super rough and almost pitted.... lots of lapping was needed to get a proper valve to seat seal.
Once I had the valves out I started looking at the combustion chamber itself and was disgusted at the INSANELY sharp edges left EVERYWHERE especially around the exhaust valve.... sharp edges lead to detonation (pinging) which I have in my current setup under certain conditions when the motor is fully heat soaked. So this shit had to go.
Before:
A little sharpie and some dremel stones to start knocking down the hard edges. I unshrouded the intake and exahaust valves as much as i could without taking too much material and got rid of the nasty points between the valves in the middle of the chamber. I am currently waiting on my 60mm bore headgaskets from kitaco. Once i get those the last edge to get smoothed out will be the outer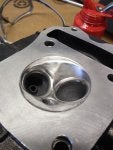 Once i do the final outer lip i will do a good lapping of the cylinder to head surface and things should be much better (ill update this as i go). Now i know that removing material out of the combustion chamber reduces compression, but im not too worried. The amount of material removed was not much and to be honest i was going to go with 2 base gaskets to reduce compression anyways to make for a longer lasting motor. All in all win win.
All that stated. If you are looking for a bolt on properly done head. The finbro head IS NOT the answer, it will require work to make it how it should of come from finbro.