Discussion Starter
·
#1
·
I got out in the garage and disassembled the HUGE diving board on the back of the Grom this evening. I created a temporary/permanent FEL and figured that others may want to do the same.
Here are a few pictures that may or may help you figure it out. :wink:
KEEP IN MIND... I have not yet installed a white light, or turn signals, but will be doing so in the near future.
After getting all of the original fender I flipped my inspection bracket over and re-attached my plate to the lower holes.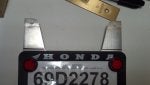 Marked the bend lines I wanted
Bent both tabs to the angle I wanted
I used the back two bolt holes from the factory fender for my bolt holes and marked my plate where I wanted to drill my holes. Then it is as simple as drilling them, and bolting it together. Remember to use lock washers or in my case flat washers (off of the lower bracket on original fender) and nylock nuts.
This is the finished product which I think turned out great for not to supply anything except 2 phillips head screws, and nuts.
VIOLA!!! a $.23 Fender eliminator kit.
NOTE: you will have to upgrade you signal flasher if you don't reattach your factory signals. I believe there is a thread on it somewhere. I will also update this with my remedy of adding signals and a white light for keeping the plate illuminated... as soon as I have time and the parts on hand.