I would not sweat my balls over the internet gurus who are well versed in any topic, I had the same problem when I was DIY testing my groms back in 2014-15 time frame trying to make it run faster or better. I always had members who are smarter than me tell me I was wrong or doing something wrong or posting facts and such. Yes some of the data they spooled were true, but in the real world testing you have variables that could and will change your final out come.

For me I just ride, DIY testing, change things and see what works and what doesn't and yes sometimes things break, blowup, but the learning curve is always changing.

Just ride it like you stole it and have fun and piss off the cagers and other MC that think you are riding a toy.

Ride safe
Thanks, man.
I'm the same. My own actual experience is my guide. I'm always experimenting... like this long intake I modified for more low rpm torque.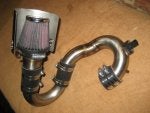 I'm averaging 139 mpg because I don't need to rev up the engine so much to get the bike moving.