So the changes I did was GromFatherZ adjustable cam chain tensioner, GFZ HD cylinder/head rods, GFZ speed spacer on my stripped 2014 wheels, rebalance Shinko 007 tires, install rebuilt HD Kitaco crank with new HD rod, new Takegawa 181-4v piston.
On the Takegawa 181-4v piston I contacted them "JapanWebike" to ask if the piston was forged or cast since their kit shows forged piston and their replacement piston shows part number for the 181-4vR kit. They told me that the piston is cast and will change the add to reflect that.
The Takegawa head had it's valves relapped and polished and I reinstalled the Takegawa 10/10D cam since I like it better than the 15/15D cam for my style of riding with a lot of mid range torque thur the Hills.
the stripped down stock 2014 wheels with Shinko 007 tires. The tire size is 140/70-12 on the rear and 110/70-12 up front since Shinko does not have a 120/70-12 tires made for the groms front.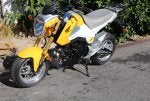 Still using my open mouth Shark DIY airbox with BMC washable air filter
Rear Shinko 007 140/70-12 rear tire and still loving my 183 Finbro full exhaust system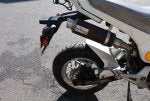 GromFatherZ adjustable cam chain tensioner unit, pricey but worth it to me.
Removed OEM sensor in the head and plug the hole up with a 12mm plug