Special note during reassembly: score with a sharp pointed pencil all the places where you typically will use the silver bolt that's covered with plasti dip and very very gently feel off those area if you dont when you tighthen those bolts it will grab and twist the paint around it, learned the hard way and have to redo one fender. So in short have patience and when this is totally cured you will love the textured look.
Total number of paint used: 4 spray can (don't use those handy little plastic trigger spray gizmo, fingers will have a better touch and feel of how you're doing the spray)
ADDED NOTE: Once done painting the shell, turnover and paint back so that the side (edges) paint (plasti dip) would wrap around, mainly focus on edges dont need to paint back extensively.
Nude Bike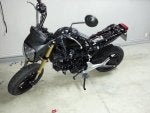 Prep:
alcohol wipe and dry all the parts that needs to be painted, no sanding required.
it helps to get into nooks and cranny if disassembled.
Painting process:
first mist spray lightly and let it dry for 30min, this is an extra step to prevent paint drips.
Spray lightly , making sure the parts are fully covered and let it dry for 30 minutes, do this for the next 6 coats.
I waited a couple of days after the paint job is done before re-assembly making sure the paint is cured and totally dry.
Paint Job up close:
Partial result: