I have a 2013 4runner which I replaced the oem horn with bosch europa.
Now one of the piece from 4runner oem horn found its place on my Grom and luckily it centered.
backside of the horn:
not much to it, just take out the oem horn assembly and install the car horn with its built in brace.
Note: grind a portion of top brace to fit in the frame notch and since front frame is not grounded use the oem ground wire (the shorter one of the two) positive wire should be the longer one with bluish color.
Make a short extension wire complete with connectors from new horn just incase you need to install back the oem horn this will maintain the oem electrical harness.
The brace: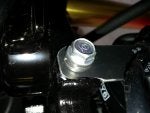 Since the oem screw is too long I have added three lock washer
Now the look: