After taking this stock beast to the track for the 1st time, I realized (kinda already knew) the forks are terrible. I couldn't keep a line coming out of the corners to save me and going into tight turn it felt like I was going to do a stoppie, cost me lots of time and aggravation. So I am sitting here today trying to figure out my options for the front end. Looking at adjustable pre-load caps ($100+), Raetech or Ohlins springs for my weight $100+-, plus the cost of the tool to hold the stanchion to separate the bottom, Ohlins cartridges ($250+), or ND4's $15 for mod (turns out doesn't work on the SF because the caps and internals are different). After reading that they are different, I decided to remove the caps to see what I could do along ND4's lines for cheap (I'm poor because I have too many toys :big smile: ).
Well, I took off the cap to find that is screws directly onto the threaded top of the stock cartridge with a locking nut to keep it all together (doesn't have the extra bolt through the middle like the 1st gens do). I grabbed a 17mm wrench to hold the locking nut and unscrewed the cap, turns out there is about an inch of threads on the cartridge threaded into the cap. So I screwed the cap on about half way .5" then tightened the lock nut up against it, put the cap back in the fork tube and proceeded to do the other side.
I immediately noticed a difference in the stance of the bike, front end sat higher than before. Took it off the rear stand and sat on it, front end did not dive/drop as far as before
Took it around the block and it feels WAY better than before.
I wish I had taken pics along the way, but I am more into wrenching and riding than I am into photography and How-to's. Will be changing out the oil next week to try to help improve the dampening (can't hurt right?), maybe I'll take pics then and update this post.
UPDATE adding pics:
Stock: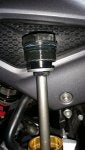 Adjusted:
Side by side w/o caps: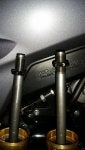 Crappy stock oil in a 17' SF with 8000 miles on it: